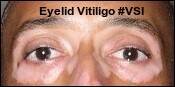 For several reasons, one of the questions we receive on a fairly regular basis is how to treat vitiligo around the eyes. For many years, first-line vitiligo treatment began with potent topical steroids. However, vitiligo treatments do not work quickly, and long-term use of these topicals is not safe due to the many side effects, such as skin atrophy (thinning), especially on areas with thinner skin such as the eyelids. Other side effects such as telangiectasia (spider veins), hypertrichosis (excessive hair growth), and acne have led many physicians to move away from the steroids, especially on sensitive areas like the face, and prescribe a non-steroidal topical immunomodulator, such as tacrolimus.
After choosing a topical, the next decision to be made is whether to use only the topical (as a monotherapy) or to use a combination therapy by adding phototherapy, such as narrowband UVB.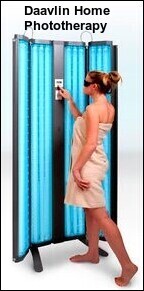 We know from many years of research, that combination therapies, specifically those involving some form of light, produce a more favorable outcome in less time than monotherapies. The topical immunomodulator works by reducing the immune response (where applied) that is destroying the melanocytes (pigment-making cells). Phototherapy works synergistically to promote the repopulation of the melanocytes.
However, phototherapy treatment for the eyes is a topic that has created conflict for some. Many physicians, citing research implicating side effects such as cataracts having been attributed to UV exposure, require their patients to wear googles during phototherapy, which is counterproductive for those specifically trying to treat the vitiligo around their eyes.
There is indeed research implicating a number of serious ocular (eye) side effects, including cataract formation, that have been attributed to ocular (eye) ultraviolet B (UVB) exposure. However, those research studies were conducted with purposes unrelated to eye phototherapy treatment.
Below we have highlighted three studies. The first two have been cited by physicians as evidence for the need for protective eyewear for patients treating periocular (around the eye) vitiligo. The third study, also cited by vitiligo physicians, arrived at an alternate conclusion. Our objective is to provide the facts for you to share with your physician to hopefully achieve the best outcome.
The information is extensive, and some of it quite scientific, so we've paraphrased here, but also included the original source for those wanting to read further, and/or share the material with their physician for consideration.