VSI Medical and Scientific Advisory Committee
Committee Chair
Pearl E. Grimes, M.D.
Ted A. Grossbart, Ph.D.
Sancy A. Leachman, M.D.
I. Caroline Le Poole, Ph.D.
Mauro Picardo, M.D.
Nanette B. Silverberg, M.D.
Richard A. Spritz, M.D.
Alain Taieb, M.D., Ph.D.
Wiete Westerhof, M.D., Ph.D
Need to Log on?
Can't remember your
password or Login ID?
No Problem!
Message from the Executive Director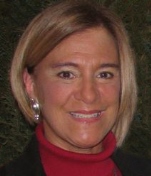 Dear VSI Members, Friends, and Donors,
I am happy to announce that 2022 truly brought
historical change to the world of vitiligo!
On 7/18/22, the US Food and Drug Administration
(FDA) approved the first on-label treatment for the
repigmentation of vitiligo!
This is a landmark event that so many have dreamed of their entire lives. The cry of the people has long been "there are no treatments; the treatments don't work; there is not enough vitiligo research, nothing will ever change."
To that, I am grateful to be able to say that vitiligo research, as well as pharmaceutical investment, is now moving at an epic pace!
However, our work here is far from done.
VSI still receives profoundly emotional requests for support from adults who've struggled with a lifetime of depression and loneliness, and heartbroken parents of newly-diagnosed children, who would give their own lives for a cure.
VSI Continues to Advocate Strenuously to
Make Certain that the Voice of All Patients Is Heard and Understood!
As a nonprofit organization, all of VSI's outreach and support, as well as publications, programs, services, and office (staffed 5 days a week), website maintenance and hosting, IT programmers, newsletter software, and much more …
is sustained by the generous support of our donors.
As a 501(c)(3) nonprofit organization,
VSI is dependent on public funding to operate.
If it's Important to You
That VSI Continues its Efforts on Your Behalf to:
 
Advocate and Increase Vitiligo Awareness
Make Sure the Voice of the Vitiligo Patient
is Heard and Understood
Provide Trusted, Current Resources like these Newsletters
Please Consider a Donation to Sustain this Vital Work.
Together We Can Make a Difference!
Sincerely,

Jackie Gardner
Executive Director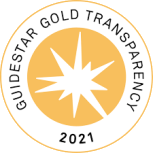 VSI is proud to announce that we have been awarded the
GuideStar Gold Seal of Transparency for 2022!
With a database of more than 1.8 million IRS-recognized organizations,
GuideStar is the most complete source of information about U.S. charities.
Search Vitiligo on Guidestar

Landmark News:
New Vitiligo Treatment!
On July 18 2022, the US Food and Drug Administration (FDA) approved the first on-label treatment for the repigmentation of vitiligo!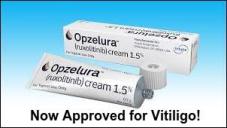 The Brand name of this new treatment, Opzelura™ and the generic (ruxolitinib cream 1.5%) are now available in the USA by prescription.

Yes! You Can Safely Treat Eyelid Vitiligo!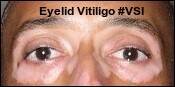 For several reasons, one of the questions we receive on a fairly regular basis is how to treat vitiligo around the eyes. For many years, first-line vitiligo treatment began with potent topical steroids. However, vitiligo treatments do not work quickly, and long-term use of these topicals is not safe due to the many side effects, such as skin atrophy (thinning), especially on areas with thinner skin such as the eyelids. Other side effects such as telangiectasia (spider veins), hypertrichosis (excessive hair growth), and acne have led many physicians to move away from the steroids, especially on sensitive areas like the face, and prescribe a non-steroidal topical immunomodulator, such as tacrolimus.
After choosing a topical, the next decision to be made is whether to use only the topical (as a monotherapy) or to use a combination therapy by adding phototherapy, such as narrowband UVB.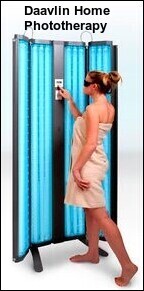 We know from many years of research, that combination therapies, specifically those involving some form of light, produce a more favorable outcome in less time than monotherapies. The topical immunomodulator works by reducing the immune response (where applied) that is destroying the melanocytes (pigment-making cells). Phototherapy works synergistically to promote the repopulation of the melanocytes.
However, phototherapy treatment for the eyes is a topic that has created conflict for some. Many physicians, citing research implicating side effects such as cataracts having been attributed to UV exposure, require their patients to wear googles during phototherapy, which is counterproductive for those specifically trying to treat the vitiligo around their eyes.
There is indeed research implicating a number of serious ocular (eye) side effects, including cataract formation, that have been attributed to ocular (eye) ultraviolet B (UVB) exposure. However, those research studies were conducted with purposes unrelated to eye phototherapy treatment.
Below we have highlighted three studies. The first two have been cited by physicians as evidence for the need for protective eyewear for patients treating periocular (around the eye) vitiligo. The third study, also cited by vitiligo physicians, arrived at an alternate conclusion. Our objective is to provide the facts for you to share with your physician to hopefully achieve the best outcome.
The information is extensive, and some of it quite scientific, so we've paraphrased here, but also included the original source for those wanting to read further, and/or share the material with their physician for consideration.
Study Purpose
Noting that "UVB radiation from sunlight is known to be a risk factor for human cataract," the researchers stated the following purpose for this study:
"To investigate the ability of a class I UV-blocking soft contact lens to protect against UVB-induced effects on the ocular tissues of the rabbit in vivo. (live rabbit)
In this study, sedated rabbits were separated into 3 groups based on the type of eye protection used, then one (opened) eye of each rabbit was exposed to UVB light for 30 minutes.
Group 1: UV-blocking senofilcon A contact lens
Group 2: A minimally UV-blocking lotrafilcon A contact lens
Group 3: No contact lens at all.
Results:
Group 1:
The senofilcon A lens nearly completely
blocked the effects of the UVB light.
Group 2:
The minimally UV-blocking lotrafilcon A lens
provided no protection. The eye damage for those in this
group was equal to those provided no protection.
Group 3:
The eyes with no protection incurred
a wide range of serious side effects.
Conclusions:
The results indicate that use of the UV-blocking senofilcon A contact lens is beneficial in protecting ocular tissues of the rabbit against the harmful effects of UVB light, including photokeratitis and cataracts.
Source:
Giblin FJ, Lin LR, Leverenz VR, Dang L. A class I (Senofilcon A) soft contact lens prevents UVB-induced ocular effects, including cataract, in the rabbit in vivo. Invest Ophthalmol Vis Sci. 2011 Jun 1;52(6):3667-75. doi: 10.1167/iovs.10-6885. PMID: 21421866; PMCID: PMC3109047. https://www.ncbi.nlm.nih.gov/pmc/articles/PMC3109047/
Below is another physician-referenced study noting the potential of cataract formation from UVB exposure during periocular phototherapy for vitiligo, supporting the need for eye protection.
Study Purpose
"To see if sun exposure was harmful to the eye. Specifically, it examined possible associations between levels of exposure to ultraviolet radiation (UVR) and the formation of cataract, macular degeneration, and corneal disease."
Below, the researchers explain their thought process for this study.
"We selected the watermen of Chesapeake Bay as our study population for a number of reasons. First, and most obviously, watermen were selected because they work outside all day. Potentially, they are exposed to the maximum UV-B irradiation naturally possible in this region. They usually work on an open boat; and because the land around the Chesapeake Bay is flat, they have an unobstructed horizon. Therefore, they are exposed to scattered UV-B from the whole sky. Further, as they work over water, they are also exposed to some additional reflected UV-B.
Results:
"Logistic regression analysis showed that high cumulative levels of ultraviolet B exposure significantly increased the risk of cortical cataract."
Conclusions:
"We conclude that there is an association between exposure to ultraviolet B radiation and cataract formation, which supports the need for ocular protection from ultraviolet B."

Source:
Taylor HR, West SK, Rosenthal FS, Muñoz B, Newland HS, Abbey H, Emmett EA. Effect of ultraviolet radiation on cataract formation. N Engl J Med. 1988 Dec 1;319(22): 1429-33. doi: 10.1056/NEJM198812013192201. PMID: 3185661. https://pubmed.ncbi.nlm.nih.gov/3185661/
Study Purpose
"To determine whether potentially harmful UV radiation is significantly transmitted through eyelid skin," and to demonstrate the efficacy and safety of this treatment for conditions such as atopic dermatitis, vitiligo, and psoriasis.

This Was a Two-Part Study to Determine the Following:
1: Safety of Eyelid Phototherapy
Determined by measuring the transmission of UV radiation through lightly-pigmented human eyelids that had been removed from cadaver (deceased) subjects.
2: Effectiveness of Eyelid Phototherapy
To determine if UV phototherapy is an effective eyelid treatment, they performed a clinical evaluation of the results of eyelid phototherapy from seven patients, who had a combined patient experience of greater than 1300 eyelid treatments over a period of several years.
Results:
Retrospective analysis of patients' records revealed no ocular disease from the phototherapy. In vitro eyelid examination produced data that indicated negligible quantities of UV radiation were transmitted through eyelid skin and remarkable improvement occurred without adverse side effects.
Conclusions:
The combined clinical experience and transmittance data suggest that eyelid phototherapy is a safe and effective treatment in selected patients.

Source:
Prystowsky JH, Keen MS, Rabinowitz AD, Stevens AW, DeLeo VA. Present status of eyelid phototherapy. Clinical efficacy and transmittance of ultraviolet and visible radiation through human eyelids. J Am Acad Dermatol. 1992 Apr;26(4):607-13. doi: 10.1016/0190-9622(92)70089-x. PMID: 1597547. https://pubmed.ncbi.nlm.nih.gov/1597547/
What Did the First Two Studies Have in Common?
The Method of Analysis Used Subjects
Whose Eyes Were Opened During the UVB Exposure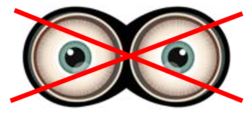 The third study stands out for a number of reasons.
To begin with, the purpose of the study is specifically relevant to the question of the safety of eyelid phototherapy. Furthermore, the study methods were carried out scientifically in the same manner in which eyelid phototherapy is conducted …
On subjects with closed eyes!
This study was not about damage incurred if you hold a rabbit eyelid open for 30 minutes while exposing it to UV radiation, or how much ocular damage could potentially be incurred if you worked on a boat on the water 12 months out of the year.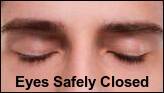 The Third Study Measured the Transmission of UV Radiation
Through Human Eyelid Skin.
And…
This Study Concluded That
Eyelid Phototherapy on Closed Eyelids
is a Safe and Effective Treatment
We hope the information we've provided will be helpful for any of our members wanting to discuss the safety of eyelid phototherapy with their physicians.

Highlights of recently-published medical
articles on vitiligo and its treatments
Yes! Vitiligo Can Affect Your Eyes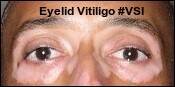 In 2012 when VSI first reported on vitiligo related eye alterations, the primary abnormality was reduced tear function and a mild "dry eye" among those with periocular vitiligo (vitiligo around the eye).
However, more recent studies are now providing additional evidence that nonsegmental vitiligo is associated with a higher risk of ocular changes.
Researchers in Gaziantep, Turkey just released results of a study that included 244 participants (130 with vitiligo and 114 without vitiligo as controls) of which 87% had nonsegmental vitiligo, and 33% had vitiligo around the eyes (periocular). While their findings were similar to the 2012 research, with 27% having moderately severe and 18% having very severe dry eyes, they also found astigmatism to be significantly higher among the vitiligo participants.
Another study just released this November from Cairo, Egypt included 40 nonsegmental vitiligo patients compared to 40 controls.
These participants, between the ages of 18 – 40 years, had a duration of disease ranging from 1 to 13 years. However, the study authors concluded that the duration did not appear to impact the abnormalities.
Eye examinations revealed significant abnormalities in 57.5% of
vitiligo patients compared with only 6.3% in the control group.
The Reported Abnormalities
Retinal Hypopigmentation
Retinal Hyperpigmentation
Iris Nevus
Iris Depigmentation
Elevated Disc
Tigroid Fundus
Conjunctival Nevus


The authors from both studies explained that vitiligo is a systemic condition affecting melanocytes throughout the body, not just the skin, and melanocytes are especially plentiful in many parts of the eye. Consequently, it is not surprising that the autoimmune process involved with depigmentation can also result in in ocular abnormalities.
Both studies noted that because ocular melanocytes are not directly involved with the visual pathways, that vision is not typically impaired.
However, it is worth mentioning that several other studies over the years have questioned the possibility of an increased incidence of a type of glaucoma among those with vitiligo, called "normal-tension glaucoma" (NTG).
While this type of glaucoma may not be characterized by the increased pressure within the eyeball associated with primary glaucoma, if left untreated it can still result in serious damage to your eyesight.
All of the studies concluded that knowing of the potential for ocular abnormalities associated with vitiligo, eyesight should be carefully monitored.
Definitions:
Conjunctival nevus: A freckle or mole-like spot on the clear film (conjunctiva) covering the eyeball which is usually benign
Choroid: The thin layer of tissue that is part of the middle layer of the wall of the eye, between the sclera (white outer layer of the eye) and the retina
Duration of Disease: The average time a person has had a disease
Fundus: The inside, back surface of the eye
Hypopigmentation: Lighter in color than normal
Hyperpigmentation: Darker in color than normal
Iris: The colored part of the eye
Iris nevus: Eye freckles
Nonsegmental Vitiligo: The most common type, appearing on both sides of the body, and most often associated with autoimmunity.
Retina: The inner layer of your eye containing the light-sensitive cells.
Tigroid Fundus: Having a striped or spotted appearance

Research & Clinical Trials
Participate in Survey to Assess the
Psychological Impact of Vitiligo Stigma
New Opportunity to Have Your Voice Heard!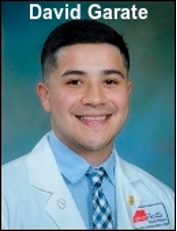 Along with his colleagues, David Garate, a second-year medical student at the Univ. of Texas Medical Branch John Sealy School of Medicine, is conducting a survey to assess the impact of vitiligo stigma on psychological well-being.
No personal information will be collected in the survey, which will take about 15 minutes. Participation is voluntary, and you may withdraw
at any time.
Requirements:
You must have vitiligo, or be the parent of a child with vitiligo,
to participate in the survey.
This is your chance to have your voice heard
and help the medical field gain a better understanding of what it is like to live with vitiligo.
To Participate in this Valuable Research:

New Recruiting Vitiligo
Study in Lynchburg VA
New Vitiligo Study
Study Location:

The Education & Research Foundation, Inc.
2095 Langhorne Rd.
Lynchburg VA. 24501

Qualified participants must:
Be 18-55 years of age
Have vitiligo
Be willing to attend 10 visits over approximately 13 weeks
For additional Information call 434-847-8400
Paid Vitiligo Study
in New York City

Vitiligo Patients Needed
For PAID Research Study at Mt. Sinai
Visits May Occur at one of the Following
Mt. Sinai Medical Office locations:
5 East 98 Street NYC– 5th Floor
234 East 85 Street NYC – 5th Floor
The Mt. Sinai Department of Dermatology Clinical Trials Center is looking for patients diagnosed with vitiligo to participate in a clinical research study.
If you or your child have been diagnosed with vitiligo you may qualify to participate.
All ages accepted.
Only one visit required, which will include a blood draw and tape strips which are used instead of needle biopsy.
For Additional Information
Contact Dermatology Clinical Trials at:
212-241-3288
(reference biopsy study)


Earn Funding for VSI with Amazon and eBay
Online Shopping Can Benefit VSI!
With thousands of items in addition to books, Amazon.com is a one stop-shopping center! Simply shop through the above link (bookmark it for easy reference), and VSI will earn fees, based on a percentage of the sale. The more items purchased by members, the higher the percentage!
Tobi Cares Donation Program
Tobi is an online women's clothing design label that brings LA style from its design studio direct to its online clothing store at tobi.com.  Go to Tobi Cares and sign up for VSI to receive 1% of your purchase amount.
IGIVE SHOPPING
iGive.com offers access to free shipping deals and exclusive coupons, on top of the great deals you'll find every day through its network of 1,000+ stores, including Pottery Barn, REI, Staples, Petco, Expedia, Best Buy, QVC and many more. Best of all, up to 26% of your purchase at each store is donated to VSI at no cost to you! Let friends and family know so they can support VSI, too. Click register for iGive to get started today, and download the iGive button to automatically benefit VSI whenever you go to an included store. You can also raise a penny per search through iGive's search engine, isearchigive.com.
GOODSEARCH SHOPPING AND DINING!
GoodSearch and Goodshop, like iGive, offers coupons, discounts, and donations to VSI through its network of over 5,000 stores. Just click the link above to get the savings started and the donations flowing!
* Vitiligo Support International Inc. (VSI) is a participant in the Amazon Services LLC Associates Program, an affiliate advertising program designed to provide a means for sites to earn advertising fees by advertising and linking to Amazon.com.
Earn Funding for VSI with eBay
Support VSI with Ebay!
Do you sell items on eBay, or want to hold an online garage sale? If so, consider donating a percentage of your proceeds to VSI through eBay's Giving Works program! It's easy – when you list an item through a Giving Works listing, choose to send 10-100% of the final sale price to VSI. Your listing will have a special placement and designation. You'll receive a proportional fee credit from eBay, and will also receive a tax donation receipt when the donation is deducted from your funds received. It's a great opportunity to make some money for yourself and for VSI, so clean out those closets and garages and get selling!
Copyright © 2022 Vitiligo Support International Inc. All rights reserved.
Reproduction or republication strictly prohibited without prior written permission.
A Vitiligo Support International, Inc. financial statement is available upon written request from the Virginia Office of Consumer Affairs. Mail requests to: Virginia Department of Agriculture and Consumer Services, Office of Consumer Affairs, P.O. Box 1163, Richmond, Virginia 23218.