Q. Does my child have vitiligo?
A. Each year during the summer months, we hear from concerned parents who've noticed areas of pigment loss on the skin of their children and worry that it might be vitiligo.
Time spent outdoors in the warmer months, and particularly among those that spend a fair amount of time at the swimming pool, seems to bring a couple of conditions to the forefront that can mimic vitiligo. One of the conditions is a type of eczema; the other, a fungus.
Pityriasis Versicolor – Also called Tinea Versicolor
Is a Fungal Skin Infection
Is NOT Contagious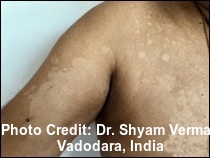 Pityriasis versicolor is a fungal skin infection caused by a type of yeast called Malassezia. This condition causes a rash with round and/or oval shaped patches that can range in color from white or brown, to red or pink. It is most commonly seen on the chest, back, and upper arms, but can also appear on the face and neck.
The affected areas are typically dry or flaky, and may be flat or slightly raised. Some people report mild itching on the patches, while others don't.
Because yeast flourishes in a warm, moist environment, sweating during the hot, humid summer months provides an optimal setting for an overgrowth, leading to the condition. It is actually the yeast that prevents the skin from tanning, causing the contrast in skin color.
Is there a treatment for Pityriasis Versicolor?
Many times, simply washing with an over-the-counter antifungal cream or shampoo for several weeks will clear the problem. More serious cases may require a prescription medication. The discoloration may last for weeks or months. The best way to reduce the discoloration is to be vigilant with sunscreen application.
Pityriasis Alba
Is NOT a Fungus
Is NOT Contagious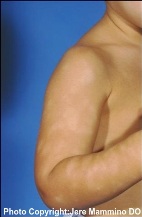 The other common condition that can cause lighter patches of skin pigment is called pityriasis alba (PA), which is a type of eczema (also called dermatitis).The areas most often affected by PA are the cheeks and the outer side of the upper arms.
Unlike some forms of eczema, this condition causes very little, if any, inflammation, meaning the affected areas don't itch.
The lesions are typically round or irregular in shape and usually begin as pink or red scaly patches. Because in time the patches resolve to areas of lighter skin, PA is often more noticeable among those with darker complexions. Caused by dry skin, the rash may appear during the cold, dry, winter months.
However, aggravated by the chemicals found in chlorinated pools, those with lighter skin may notice the rash as their skin tans after swimming during the summer months.
Those with dry, sensitive skin are more prone to developing PA. It's also common to see this condition among those with a family history of asthma, allergies, eczema, and very dry, sensitive skin.
Are there treatments for PA?
The best thing you can do to prevent or treat PA is to keep the skin hydrated. Try to use mild, fragrance-free soaps, only use soap on the areas of the body that are actually dirty, and always apply a thick moisturizing cream within 3 minutes after drying off.
The good news is that PA is not permanent. It most often affects children and usually goes away by adulthood.