VSI Medical and Scientific Advisory Committee
Committee Chair:
Pearl E. Grimes, M.D.
Ted A. Grossbart, Ph.D.
Sancy A. Leachman, M.D.
I. Caroline Le Poole, Ph.D.
Mauro Picardo, M.D.
Nanette B. Silverberg, M.D.
Richard A. Spritz, M.D.
Alain Taieb, M.D., Ph.D.
Wiete Westerhof, M.D., Ph.D
Need to Log on?
Can't remember your
password or Login ID?
No Problem!
Message from the Executive Director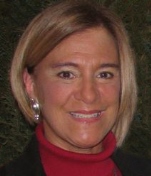 Dear VSI Members, Friends, and Donors,
Over the years we've covered a vast array of subjects in our newsletters, as we feel an obligation to keep our members informed. As we all know, living with a skin disease that outwardly changes your appearance can cause stress, anxiety, and loss of self-esteem and social confidence.
People fear what they don't understand. Education is the key to understanding. Educating yourself about vitiligo helps you face your fears, and is an important step in regaining control of your life.
Each newsletter reaches a wide-spectrum of VSI members, each with individual needs and interests. From those newly diagnosed to those who feel they've been around the block and back, we feel it's important to keep each member engaged regardless of where they are in their own personal journey.
For those of you, who for personal reasons no longer have an interest in treatments, we understand. But our hope is that you will keep your eye on research.
Because whether or not you still have an interest in treatments….
You still have vitiligo
It's very important that you are aware of the connection (interrelationship) between vitiligo and other closely related autoimmune diseases, such as autoimmune thyroid disease, rheumatoid arthritis, and type 1 diabetes, so that you can be aware of (and on the lookout for) signs that could indicate impending health problems.
The bottom line is, we recognize that our members are in different places with different needs and interests. Regardless of where you are in your journey, know that VSI is here for you. We hope that you will continue to find value in the information we provide, if not for today, then for the children and grandchildren who may someday benefit from your knowledge. We are all part of one big family.
Together We Can Make a Difference!
VSI is a member-supported 501(c)(3) charitable organization working on behalf of the millions of people affected by vitiligo.
Your Donations Are Used to Provide:
Patient Support; Educational Resources; and to Advocate Nationally to Increase Vitiligo Awareness.
Please Support VSI Today!
Sincerely,

Jackie Gardner
Executive Director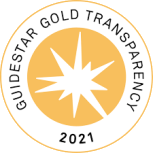 VSI is proud to announce that we have been awarded the
GuideStar Gold Seal of Transparency for 2022!
With a database of more than 1.8 million IRS-recognized organizations,
GuideStar is the most complete source of information about U.S. charities.
Search Vitiligo on Guidestar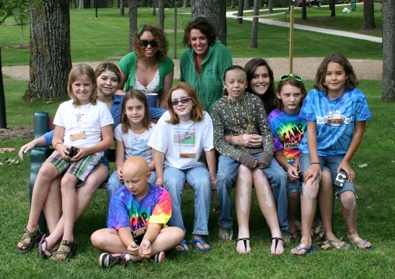 The American Academy of Dermatology's (AAD) Camp Discovery program is for children ages 8-16 who have a chronic skin disease. Under the expert care of dermatologists and nurses, Camp Discovery gives campers the opportunity to spend a week with other young people with skin conditions having fun and participating in activities such as swimming, horseback riding, arts and crafts and many more. There is no fee to attend, all costs including transportation, are provided by the AAD through generous donations from its members, outside organizations and individuals.
All children must be referred by their dermatologist. Parents can copy the Camper Referral form and take it to their dermatologist. Submission Deadline: April 4, but continue accepting referrals until sessions have been filled.
Volunteer Applicants must be at least 18 years of age and provide one letter of recommendation. Submission Deadline: April 2,2022 

Click Here for Volunteer Information

There is no fee to attend, all costs including transportation, are provided by the AAD through generous donations from its members, outside organizations, and individuals.
2022 Camp Discovery Dates and Locations
June 24 – 29: Crosslake, Minnesota
July 31 – Aug 5: Crosslake, Minnesota 
August 7 – 12 : Andover, Connecticut
August 7 – 12: Burton, Texas
August 13 – 19: Millville, Pennsylvania
August 28 – Sept 1: Gig Harbor, Washington

Vitiligo
Letting the World Know
As a vitiligo patient myself, it is my still vivid memory of the pain, helplessness, and utter frustration that I experienced when first diagnosed that continues to fuel my resolve to be the voice for those who are unable to speak for themselves.
Over the decades you have trusted and honored VSI, sharing your experiences, fears, concerns, frustrations, and heartbreaks. It is through your stories that we have been able to keep our finger on the pulse of the real-world, day-to-day impact on the lives of those affected by vitiligo.
Our ability to reach, connect with, and provide information to our vast, diverse, and multi-cultural membership is not only our primary asset, but has served to establish our identity as a go-to resource for the broader professional community.
The development of each VSI newsletter, from concept to production is an all-encompassing process, starting with you, our members. Representing the patients' thoughts, concerns, views, and needs is a responsibility we take very seriously. Not everyone with vitiligo feels the same. In fact, even the same person doesn't feel the same way every day.
This newsletter is dedicated to giving you the opportunity to have your voice heard.
We have worked hard to comprise a survey that asks questions designed to give friends, family, physicians, researchers, drug manufacturers, insurers, and others a better understanding of what it's like to live with vitiligo.
We hope you will take a few minutes to complete the survey, and add any other thoughts or comments you might like to share.

Calling all Medicare Vitiligo Patients!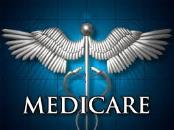 VSI regularly hears from patients from all over the United States who have been denied insurance coverage for their vitiligo treatment. VSI has been fighting this battle on a national level for several years. While we are definitely making progress, it's been a slow road.
Part of the problem is that currently there is no accepted standard for coverage of vitiligo treatments. Each company has their own policies and guidelines, many times based on outdated and incorrect information.
What most people may not realize is just how much private insurance coverage can be affected by Medicare policies. Over 55 million Americans are now covered by Medicare or Medicare Advantage, making it the nation's largest health insurance program. Consequently, many, if not most, insurance providers establish their baseline standards and procedures to follow the Medicare model.
Medicare has agreed to meet with us – but requires that we bring Medicare letters of denial for a vitiligo treatment.
If you are reading this newsletter and you, or someone you know, was denied coverage for a vitiligo treatment by Medicare, please contact VSI immediately. You could help make a difference for future insurance coverage for ALL vitiligo patients!
Click Here to Contact VSI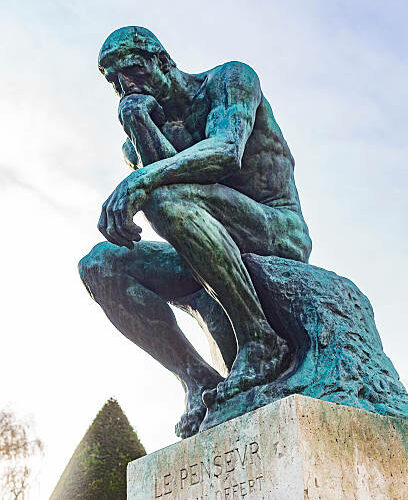 Q. Does my child have vitiligo?
A. Each year during the summer months, we hear from concerned parents who've noticed areas of pigment loss on the skin of their children and worry that it might be vitiligo.
Time spent outdoors in the warmer months, and particularly among those that spend a fair amount of time at the swimming pool, seems to bring a couple of conditions to the forefront that can mimic vitiligo. One of the conditions is a type of eczema; the other, a fungus.
Pityriasis Versicolor – Also called Tinea Versicolor
Is a Fungal Skin Infection
Is NOT Contagious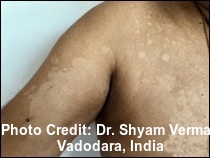 Pityriasis versicolor is a fungal skin infection caused by a type of yeast called Malassezia. This condition causes a rash with round and/or oval shaped patches that can range in color from white or brown, to red or pink. It is most commonly seen on the chest, back, and upper arms, but can also appear on the face and neck.
The affected areas are typically dry or flaky, and may be flat or slightly raised. Some people report mild itching on the patches, while others don't.
Because yeast flourishes in a warm, moist environment, sweating during the hot, humid summer months provides an optimal setting for an overgrowth, leading to the condition. It is actually the yeast that prevents the skin from tanning, causing the contrast in skin color.
Is there a treatment for Pityriasis Versicolor?
Many times, simply washing with an over-the-counter antifungal cream or shampoo for several weeks will clear the problem. More serious cases may require a prescription medication. The discoloration may last for weeks or months. The best way to reduce the discoloration is to be vigilant with sunscreen application.
Pityriasis Alba
Is NOT a Fungus
Is NOT Contagious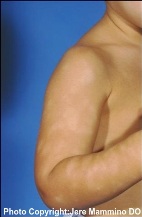 The other common condition that can cause lighter patches of skin pigment is called pityriasis alba (PA), which is a type of eczema (also called dermatitis).The areas most often affected by PA are the cheeks and the outer side of the upper arms.
Unlike some forms of eczema, this condition causes very little, if any, inflammation, meaning the affected areas don't itch.
The lesions are typically round or irregular in shape and usually begin as pink or red scaly patches. Because in time the patches resolve to areas of lighter skin, PA is often more noticeable among those with darker complexions. Caused by dry skin, the rash may appear during the cold, dry, winter months.
However, aggravated by the chemicals found in chlorinated pools, those with lighter skin may notice the rash as their skin tans after swimming during the summer months.
Those with dry, sensitive skin are more prone to developing PA. It's also common to see this condition among those with a family history of asthma, allergies, eczema, and very dry, sensitive skin.
Are there treatments for PA?
The best thing you can do to prevent or treat PA is to keep the skin hydrated. Try to use mild, fragrance-free soaps, only use soap on the areas of the body that are actually dirty, and always apply a thick moisturizing cream within 3 minutes after drying off.
The good news is that PA is not permanent. It most often affects children and usually goes away by adulthood.

Highlights of recently-published medical
articles on vitiligo and its treatments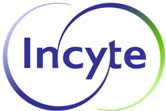 Ruxolitinib Cream for Vitiligo!
FDA Target Date Delayed
We've all been anxiously awaiting the FDA approval of the topical JAK inhibitor ruxolitinib cream 1.5% (Opzelura™) which will set precedent as the first ever FDA-approved, "on label" prescription for repigmentation of vitiligo.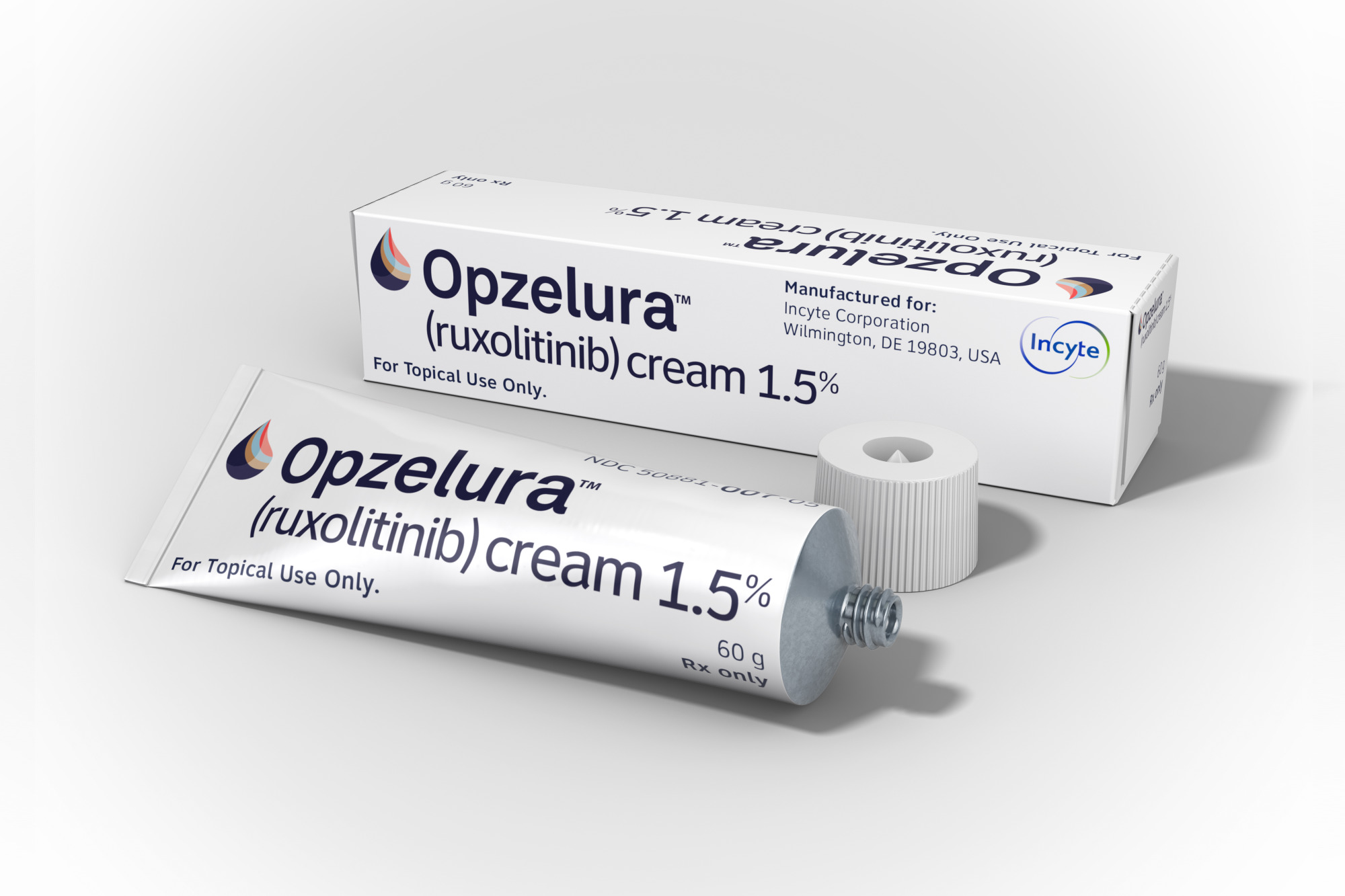 If you've been following this news as closely as VSI, you know that the target action date for approval had been set for April 18, 2022. However, on March 14, 2022, the FDA announced they had extended the review period by three months to July 18, 2022.
While disappointing, the action was not completely unexpected. The FDA took the same action last year when it also extended the review period by three months for this same drug for use with atopic dermatitis.
Once Opzelura™ has been approved for use with vitiligo, VSI will provide additional information on patient assistance programs sponsored by Incyte (the drug manufacturer) to be able to offer this prescription at a greatly reduced cost.
VSI will continue to provide updates on this promising information.
For Additional Information:
See Previous VSI Newsletters

Research & Clinical Trials
Multi-Center Vitiligo Treatment Clinical Trial
Irvine CA, Sacramento CA, New Haven CT
Phase 2 Clinical Trial Evaluating
AMG 714 Treatment for Vitiligo
New Study Locations!
UC Davis Dept. of Dermatology
3301 C. Street
Sacramento, California, 95816
Yale University School of Medicine
2 Church St. South
New Haven Connecticut, 06519
UCI Health Beckman Laser Institute
And Medical Center, Suite 222
Irvine, California, 92697
As VSI has previously reported, many times when a person experiences a vitiligo relapse, they lose pigment in the exact same location as a previous lesion, due to the discovery of autoimmune memory T cells. This new therapy targets and blocks the memory signaling and also removes these memory T cells, which is showing long-term improvement from short-term therapy.
Participants will be randomized into one of two groups
for a 24 week, double blind period.
Each group will receive 300 mg of AMG 714, or, placebo for AMG 714, subcutaneously on Day 0 and every 2 weeks thereafter through week 10 (for a total of 6 doses).
At week 24, all participants who have not shown at least 25% improvement, will begin NB-UVB phototherapy 3 times per week
for a total of 24 weeks.
Key Inclusion Criteria:
Clinical diagnosis of active or stable non-segmental vitiligo
At least 0.25% facial depigmentation
At least 3% depigmentation on the body
Must be willing to undergo narrow band ultraviolet B (nbUVB) phototherapy
Must discontinue all vitiligo treatments from screening through the final safety follow-up visit at week 48
Key Exclusion Criteria:
More than 33% pigment loss on the face or on the total body
Previous or current diagnosis of other cancer
May never have used any depigmentation treatments
To Participate, or For More Information:
Irvine Contact:
Laura Ortiz ph: 949-824-6483 – email: [email protected]
New Haven Contact:
Andrea DeClement ph: 203-785-5182 – email: [email protected]
Sacramento Contact:
Angela Calaguas ph: 916-734-1509 – email: [email protected]

Earn Funding for VSI with Amazon and eBay
Online Shopping Can Benefit VSI
With thousands of items in addition to books, Amazon.com is a one stop-shopping center! Simply shop through the above link (bookmark it for easy reference), and VSI will earn fees, based on a percentage of the sale. The more items purchased by members, the higher the percentage!
Tobi Cares Donation Program
Tobi is an online women's clothing design label that brings LA style from its design studio direct to its online clothing store at tobi.com.  Go to Tobi Cares and sign up for VSI to receive 1% of your purchase amount.
IGIVE SHOPPING
iGive.com offers access to free shipping deals and exclusive coupons, on top of the great deals you'll find every day through its network of 1,000+ stores, including Pottery Barn, REI, Staples, Petco, Expedia, Best Buy, QVC and many more. Best of all, up to 26% of your purchase at each store is donated to VSI at no cost to you! Let friends and family know so they can support VSI, too. Click register for iGive to get started today, and download the iGive button to automatically benefit VSI whenever you go to an included store. You can also raise a penny per search through iGive's search engine, isearchigive.com.
GOODSEARCH SHOPPING AND DINING!
GoodSearch and Goodshop, like iGive, offers coupons, discounts, and donations to VSI through its network of over 5,000 stores. Just click the link above to get the savings started and the donations flowing!
* Vitiligo Support International Inc. (VSI) is a participant in the Amazon Services LLC Associates Program, an affiliate advertising program designed to provide a means for sites to earn advertising fees by advertising and linking to Amazon.com.
Earn Funding for VSI with eBay
Support VSI with Ebay!
Do you sell items on eBay, or want to hold an online garage sale? If so, consider donating a percentage of your proceeds to VSI through eBay's Giving Works program! It's easy – when you list an item through a Giving Works listing, choose to send 10-100% of the final sale price to VSI. Your listing will have a special placement and designation. You'll receive a proportional fee credit from eBay, and will also receive a tax donation receipt when the donation is deducted from your funds received. It's a great opportunity to make some money for yourself and for VSI, so clean out those closets and garages and get selling!
Copyright © 2022 Vitiligo Support International Inc. All rights reserved.
Reproduction or republication strictly prohibited without prior written permission.
A Vitiligo Support International, Inc. financial statement is available upon written request from the Virginia Office of Consumer Affairs. Mail requests to: Virginia Department of Agriculture and Consumer Services, Office of Consumer Affairs, P.O. Box 1163, Richmond, Virginia 23218.