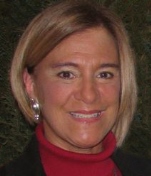 Dear VSI Members, Friends, and Donors,
From April 21 – 23, 2022, I was honored to attend the 3rd
VIPOC (Vitiligo International Patient Organizations Conference)
in Amsterdam, Netherlands.
Vitiligo patient advocacy organizations from 20 nations joined together with researchers, physicians, and pharmaceutical and industry representatives, to strengthen collaborations and increase vitiligo awareness.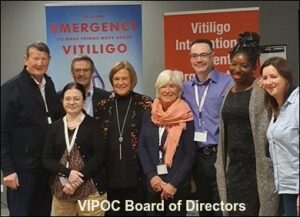 VIPOC Board:
From Left Jean-Marie Meurant France, Maya Tulpule India, Georg Pliszewski Germany, Jackie Gardner USA, Nicolle Maquignon France, Stephen Taylor USA, Sharon King USA, Catherine Davidson UK
Presentations and workshops focused on topics such as quality-of-life impact, emotional
and psychological burden, cultural and social impacts, and the need for increased
resources for children to prevent bullying and isolation.
Participants were given the opportunity to share their thoughts directly with
pharmaceutical representatives regarding the need for improved and affordable treatments with fewer side-effects, and greater collaboration and inclusion of patient input in treatment research, discussions, and decisions.
Because VSI members so graciously shared their most heartfelt thoughts and
experiences in our Spring newsletter survey (My Vitiligo Story), my presentation
centered on these survey results, leaving no question that vitiligo is a life-altering
skin disease, with very deep-seated emotional and psychological effects impacting
life's decisions every single day.
We received many poignant comments that rang so true to me:
"Every single patient is different. We are not a monolith. It's annoying to be expected to have the same emotional reaction or mindset as everyone else (e.g. "embrace it" because  a famous model has it and is thriving)."
"Just because it is not physically painful does not mean it doesn't hurt."
"My family has always said, "Oh, we don't even notice it."
This makes me feel dismissed because it has been devastating for me to have vitiligo.