In This Issue
Message From the
Executive Director
Personal Message from
Dr. Richard Spritz
What is Your Experience With
The Lesser Known Symptoms?
Is NB-UVB light treatment
safe to use when pregnant?
Can hair coloring
cause pigment loss?
Self Tanners Increase Free
Radicals wih Sun Exposure
Vitiligo Around the Eye
Can Cause Dry Eye
Vitiligo Clinical Trial for
Men in MA Who Are Taking
Cholesterol Medication
Volunteers from USA and
Canada Needed to Complete
Vitiligo Questionnaire
Patients and Controls
Needed for Online
Vitiligo Survey
Bibliography

Earn funding for VSI
When you Shop!
View Past Newsletters

VSI Medical and Scientific
Advisory Committee

Pearl E. Grimes, M.D., Committee Chair
Ted A. Grossbart, Ph.D.
Sancy A. Leachman, M.D.
I. Caroline Le Poole Ph.D.
Mauro Picardo, M.D.
Nanette B. Silverberg, M.D.
Richard A. Spritz, M.D.
Alain Taieb, M.D., Ph.D.
Wiete Westerhof, MD, Ph.D.
For more information
on VSI's MSAC Click Here
How to Log In:
Have you have forgotten your Login ID and/or Password?
No Problem!
Just go to the
Community Page
Scroll down to
the login box.
LOOK UNDERNEATH!
You'll see instructions to have them sent to the email address on your account.
How to Log In:
Have you have forgotten your Login ID and/or Password?
No Problem!
Just go to the
Community Page
Scroll down to
the login box.
LOOK UNDERNEATH!
You'll see instructions to have them sent to the email address on your account.
How to Log In:
Have you have forgotten your Login ID and/or Password?
No Problem!
Just go to the
Community Page
Scroll down to
the login box.
LOOK UNDERNEATH!
You'll see instructions to have them sent to the email address on your account.
Contact Us
Online
VitiligoSupport.org
Email Contact Us
Postal Mail Address
Vitiligo Support International
P.O. Box 3565
Lynchburg Va 24503
Phone
(434) 326-5380
VSI extends its condolences to VSI Founder Randy Salter for the loss of his mother,
Rose Salter, on March 9, 2012
---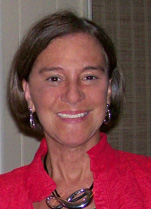 Dear Members and Friends of VSI,
Finding the cause of vitiligo is like solving a mystery. Our body's pigment cells are the "victim," but who is the perpetrator of the crime? Or is there more than one perpetrator? The scientists engaged in this hunt are looking for the clues that will lead them to the answer. In recent months, we have obtained more clues that further implicate the immune system and its processes as the source of the "crime."
One such clue is linked to our eye color. Richard Spritz, M.D. and a team of geneticists at the University of Colorado School of Medicine recently found that vitiligo patients of non-Hispanic European ancestry have a much lower prevalence of gray or blue eye color, and a higher prevalence of tan or brown eye color than in the normal population for those of this ancestry.
As genes strongly associated with gray or blue eye color are also associated with an elevated risk of melanoma, these same researchers felt this strengthened the theory that people with vitiligo are less likely to develop malignant melanomas than the general population. They went on to say that although there are probably additional unidentified genes, those already identified provide insights into the optimal use of existing therapies and even new approaches to treatment.
In this issue, we feature another international group's work on symptoms that provide more clues as to what may trigger or relate to this "over-activity." Their work is especially fascinating because it focuses on lesser-known symptoms such as itch and premature hair graying in a family. Their work provides new information not only for the researcher, but also the patient. 
Gene research and patient experience together are not only informative, but are also critical to finding the triggers and cause of vitiligo. Your support of this research through your personal participation as a volunteer helps us to understand more of the vitiligo process. Consider participating in one of the several studies looking for volunteers that are listed in the "Research and Clinical Trials" section of this newsletter. Join with us to solve the mystery of vitiligo!
If You Have Vitiligo:
Click Here to Report Your Eye Color!
Sincerely,

Jackie Gardner
Executive Director

Personal Message and Request From Dr. Spritz
Over the last four years several thousand VSI Members
have taken part in our studies!
Thank you!

Those who originally gave a saliva or blood sample filled out a form asking about your vitiligo and other autoimmune diseases. We would like to send you a new form to get an update on your situation and also to ask some additional questions about your vitiligo treatment history and outcomes. We hope to use this with our existing genetic data to understand what treatments work or don't work in different people and why.
We will complete this entirely by email, but since our contact information may be out of date, if you are willing to fill out an update form please send an email to Paulene Holland ([email protected]) with the following information.
1. Your first and last name (and your former name if it has changed)
2. Your current email address
3. Your state (or previous state, if you have moved since you participated)
4. Your country
That will give us enough information to find you in our database and send you the update form, which can be emailed to Paulene when complete.
Would You Like to Continue Receiving
VSI's Newsletters?
VSI Strives to Provide the Vitiligo Community
with the most current, accurate and reliable source
of vitiligo news and information.
VSI cannot provide these resources without
the support of the community it serves.
Please Show Your Support Today!

If you are not a Supporting Member,
Please consider joining today! Click Here to Join.
Already a Supporting Member?
Please consider a contribution today by clicking here.
At this time VSI is unable to integrate PayPal with the website Supporting Membership function; however, we can process this manually. If you would like to upgrade to or renew a Supporting-Level Membership using PayPal, please contact VSI at
[email protected]

---
We know that vitiligo is a relatively common skin disease that causes pigment loss in about ½ to 1% of the population. Genetic research in the past 5 years has uncovered a great many new clues about this mysterious disease. However, there is still much to learn with regard to why some people experience 

symptoms that others do not, or why some respond better to one type of treatment than others. Finding these and other answers will likely come from asking more questions. Who's to say which questions or answers are right or wrong, or which patient's story should be documented or dismissed? The research studies we focus on in this article seem to validate the importance of not only listening to the patient, but also carefully documenting the details they present or question.
Dr. Khaled Ezzedine, a French dermatology researcher, and a research group at the Department of Dermatology in Bordeaux, France, recently reported their results from a 4.5 year vitiligo study that confirms, in significant numbers, the association of several vitiligo symptoms that have historically been dismissed by many in the scientific and medical communities. VSI had the opportunity to sit down and talk with Dr. Ezzedine at this year's American Academy of Dermatology meeting. He explained that one idea deserving further exploration is the possibility that within the major classifications of vitiligo, there may exist additional unknown "sub-types." Identifying the sub-types of vitiligo and learning the distinctions of each may explain why symptoms, triggers, and treatment response often vary from person to person.
Vitiligo has traditionally been classified into two major types, Segmental Vitiligo (SV), and Non-Segmental Vitiligo (NSV), and a more recent addition known as "Mixed Vitiligo" (MV).  Although a few sub-types have been identified, such as focal vitiligo and acrofacial vitiligo, very little else is known regarding their clinical characteristics.
Segmental Vitiligo (SV) most often begins at an early age and affects only one area, on one side of the body, such as one side of the mouth or neck. It generally spreads fairly quickly at the onset, then slows and remains stable after a year or so. More than half of those affected by SV will also have patches of white hair.
Non-Segmental Vitiligo (NSV) includes all types of vitiligo except segmental, such as focal vitiligo (pigment loss limited to one, or very few areas), acrofacial vitiligo (pigment loss occurring only on the face and extremities such as hands and feet), and the most common, generalized vitiligo (pigment loss on both side of the body in a mirror-like image, such as both hands or both knees). NSV typically begins on areas such as the hands, wrists, around the eyes or mouth, or on the feet, then spreads to areas such as the neck, chest, knees and legs. NSV is considered to be progressive, but has cycles of spreading and cycles of stability. Also, while it is uncommon, a person with SV can later develop NSV.
Mixed Vitiligo (MV) begins as segmental vitiligo, then later progresses into nonsegmental vitiligo, becoming Mixed Vitiligo.
Dr. Ezzedine mentioned other clues, such as the specific
location and/or shape of the vitiligo, that could point
toward a specific sub-type.
For instance:
| | |
| --- | --- |
| Do you have a V-shaped area of depigmentation on the inside of the wrist? | |
| Do you have pigment loss on the knees? | |
While the above occurrences may seem common to you, they tend to occur in certain groups of individuals, but not others. What are the common similarities of those who do, or do not experience the above symptoms?  
Did your vitiligo itch before depigmenting?


Did you experience a particularly emotional stressful event in the months prior to developing or the spreading of vitiligo?


Did you, or anyone else in your family, experience premature hair graying?

These are less well-known symptoms that many doctors have in the past dismissed as unrelated to vitiligo. If you answer yes to any of the above questions, you may have a select sub-type of vitiligo.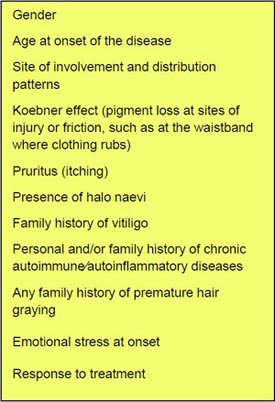 The factors listed to the right are deemed significant to identifying which sub-type of vitiligo may be involved. It is therefore important that the clinician document any of the applicable details for each vitiligo patient.
In their study, the French researchers followed 213 children; 142 with NSV, 59 with SV and 12 with mixed vitiligo. While carefully documenting the many symptoms and characteristics reported and observed, the French team made an interesting discovery. They found many of these lesser-known symptoms in a significant number of the study patients.
Itching, for example, a symptom not widely accepted as typical of vitiligo, seemed to be part of the depigmentation process, at least for many in the study. They found that a little over 20% of the NSV participants experienced itching prior to depigmentation. This was more than twice the nearly 9% of SV patients who reported itching before depigmentation. In both types, the itching at the onset of flares of depigmentation improved when depigmentation ceased.

This finding correlates with an earlier similar finding reported in 2009 by Dutch investigators, who also found that 20% of 245 adult patients with generalized vitiligo had vitiligo-associated itching. They recommended itching should be further investigated given that the traditional opinion has been that vitiligo only rarely involves itching, which is an inflammatory process.
Another somewhat controversial symptom, family history of premature graying of the hair (more than 50% white hair before the age of 40) was reported by 44% of the NSV patients; this reflected a much higher incidence than the 19% seen in those with SV. A family history of premature hair graying has been reported and discussed in the past, but was most often dismissed as insignificant to vitiligo.

A third controversial factor reported was the role emotional stress plays in triggering vitiligo. The French group found that 31% of the NSV, and 14% of the SV patients, reported emotional stress as preceding their onset of vitiligo.
Greek researchers in 2011 similarly found emotional stress to play a role in triggering vitiligo. Of the 133 vitiligo patients they studied, 24% with childhood-onset and 37% with late-onset vitiligo recalled a stressful event just before the onset of vitiligo. Though emotional stress preceding a flare of depigmentation has long been reported by many patients, its connection to vitiligo remains controversial and has for the most part been disregarded and under-reported by the medical field.
A 2008 Serbian medical report found that a high proportion, up to 80%, of autoimmune disease patients  reported uncommon emotional stress before disease onset. The theory is that psychological stress triggers certain (neuroendocrine) hormones that disrupt the immune system, which contributes to the onset of autoimmune disease. According to the Serbian report, this type of stress triggers a vicious cycle, as the disease itself also causes significant stress in the patients. They recommend that the physician and patient discuss potential physical and emotional stresses to avoid, and that treatment for autoimmune diseases should include stress management and behavioral counseling to minimize or prevent stress on the immune system.

Other findings included the association of halo nevi, which were present more frequently in NSV than in SV by a significant margin. Halo nevi are common benign skin lesions that are the result of an immune response against melanocytes. They appear as uniformly colored moles, tan, pink or brown in color, that are surrounded by hypopigmentation (pigment loss).
The chart below from the French study shows the percentage that each symptom occurred either in the SV or NSV patients. They're ranked with the symptoms most commonly found in both SV and NSV at the top, progressing to those primarily found in NSV toward the bottom. You'll see that symptoms such as pruritus, (itching) and halo nevi occur in significant numbers among the NSV patients, but in negligible percentages of the SV group.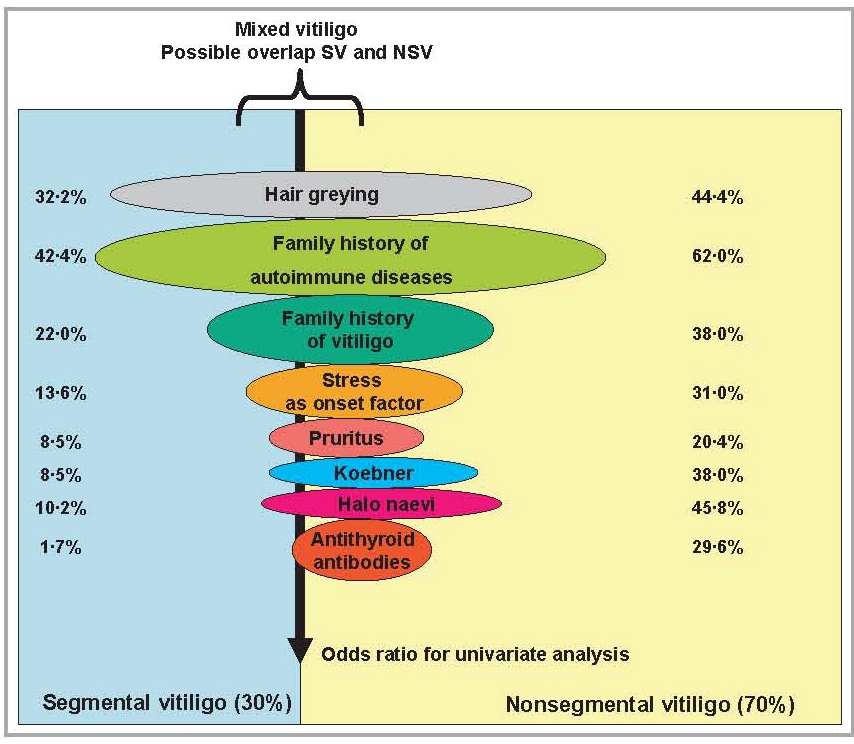 The researchers advised that SV patients who exhibit signs of inflammation and/or autoimmunity, such as itching and/or halo nevi, should be carefully followed up because of a possible increased risk for MV.
Though the devastating emotional and psychological impact of vitiligo diminishes self-confidence, initially leading many to many social exclusion, it has long been considered a harmless, cosmetic skin disorder undeserving of aggressive treatment. Learning more about the sub-types of vitiligo will help identify which treatments are more (or less) likely to work for each patient. However, the scientific and medical community must carefully listen to and document the information shared by the vitiligo patient. We have data on the major types of vitiligo, but, says Dr. Ezzedine, if we are to further clarify possible sub-types, we will need to dig deeper, learning more about the physical health, family history, and physical experiences of the vitiligo patient. Larger, more in-depth studies are needed to understand the complete range of symptoms and triggers, and to gain insight into what drives the vitiligo disease process.

VSI Executive Director Jackie Gardner and Dr. Khaled Ezzedine
discuss findings of the French research study
during this year's AAD meeting.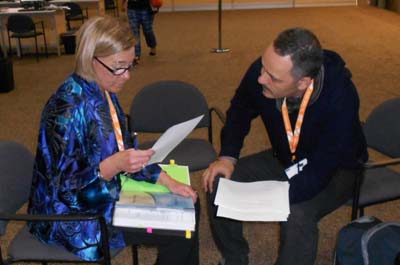 Response Summary of Vitiligo Itch Survey:
The French researchers asked for VSI's help to reach out to vitiligo patients
and ask for their participation in a preliminary itch survey.
The results from the one question survey included in VSI's last newsletter indicated that itch is also a symptom for a significant number of our readers.
Did your vitiligo itch before the depigmentation?
| | | |
| --- | --- | --- |
| | Percent | Count |
| Yes | 92% | 642 |
| No | 8% | 55 |
Total Participants  697
VSI would like to thank all of those who participated in this survey!
Dr Ezzedine is currently working with a group of researchers to develop a more detailed survey on itch. VSI will post updates as they become available.


What's On Your Mind?
---
Q. Is it safe to use Narrowband UVB (NB-UVB) when planning, or during, pregnancy?
A. While NB-UVB is generally considered safe for pregnant patients, studies have shown that UV radiation can reduce or deplete the body of folic acid. This reaction to UV radiation is more pronounced in lighter-skinned individuals, and less with darker skin. Because insufficient folic acid during prenatal development is known to cause neural tube (brain and spinal cord) defects in the infant, Dr. Jenny Murase, M.D., of the UCSF dermatology department advises folic acid supplementation for female vitiligo patients undergoing phototherapy who are planning to, or may become, pregnant.

To minimize any risk, because critical periods of organ development actually begin before many women realize they are pregnant, Dr. Murase, recommends baseline folic acid testing before, at the beginning of pregnancy, and again toward the end of the first trimester.

Dr. Murase says about 0.5 mg/d of folic acid is recommended in a normal pregnancy. High-risk patients can take as much as 4 to 5 mg/d, but it is necessary to rule out vitamin B12 deficiency when prescribing over 1 mg/d. She said that the folic acid supplementation can be included in a woman's prenatal vitamins and should continue throughout the pregnancy.

---
Q. Can Coloring My Hair with Hair Dye Cause Pigment Loss?

A. Yes, the small phenolic/catecolic derivatives in hair dye can easily penetrate the epidermis and travel down the hair follicle to the bulge region where melanocyte stem cells reside, eventually causing pigment loss. (Source: Ray Boissy Ph.D.)

Would the pigment loss be localized, or is it possible for these chemicals to cause systemic pigment loss in areas other than where they are applied?

The initial effect of these compounds would be local and induce vitiligo in the interfollicular epidermis of the scalp and beard areas, and possibly induce hair graying after prolonged use. And yes, ultimately, this process could result in stimulating and/or recruiting a genetically regulated heightened autoimmune response causing systemic pigment loss in other areas of the body for those patients with generalized vitiligo.

What are some of the hair dye ingredients known to cause pigment loss?




(Source: Ray Boissy Ph.D.)

P-Phenylenediamine
P-Amonophenol
4-Amino-2-Hydroxytoluene
M-Aminophenol
Benzyl alcohol
P-Aminophenol

Highlights of recently-published medical
articles on vitiligo and its treatments
---
Self-Tanners Found To Promote
Aging of Sun-Exposed Skin
German researchers found that the skin is especially susceptible to free-radical damage or accelerated cell aging from ultraviolet light exposure for 24 hours after self-tanner (containing 20% DHA) is applied. Testing the skin forty minutes after applying the DHA solution, the researchers found that when combined with UV light exposure, the skin formed more than 180 percent additional free radicals (molecules which promote cell aging), essentially doubling that of untreated skin.
Dihydroxyacetone (DHA) is the most frequently used self-tanning agent. It is used for cosmetic applications and though higher strengths can be purchased online, in the United States, the FDA limits concentrations to a maximum of 15%. Most drugstore products range from 3% to 5%, with professional products ranging from 5% to 15%. The percentages correspond with the product coloration levels from light to dark. The higher the self-tanning concentration, the higher the radical induction.  Because DHA-treated skin increases the level of free radicals with UV exposure, the researchers concluded that, in order to avoid an accelerated photoaging process, users would be best advised to avoid or limit sun exposure for 24 hours after applying self-tanning products.
The study also noted that application of a "potent topical antioxidant" prior to, or at the same time as application of the self-tanner, is being studied as a way to neutralize this reaction.
---
Surface Eye Alterations Found in Vitiligo Patients

Periocular vitiligo (vitiligo around the eye/s) was found by Turkish researchers in a study of 30 vitiligo patients to be associated with ocular (eye) surface and tear function alterations. A control group of 50 people were included in the study. Both groups were subjected to tests measuring tear function and assessing the cells of the conjunctiva.
The researchers found that people with vitiligo around the eye on average had a mild "dry eye" as compared to the control group. A score of over 10 is considered normal, between 5-10 is marginal, and below 5 means low tear function or very dry eyes. Tests of the tears in the eyes of those with vitiligo started drying on average in 9.5 seconds as compared to 13.1 seconds of those in the control group.
They also found inflammation (or conjunctivitis) in three eyes of the vitiligo group (5.0%) and none of the eyes in the control group. Additional studies on periocular vitiligo were recommended to gain a better understanding of the underlying causes of vitiligo.

---
New Clinical Trial in Massachusetts!
A phase-II, randomized, placebo-controlled trial
of simvastatin in generalized vitiligo

Principle Investigator: John E. Harris, MD, PhD
Study Location:
UMass Memorial Medical Center in Worcester, MA
A research trial at UMass is studying whether simvastatin, a common cholesterol medication, is useful in treating vitiligo. The study includes taking either this medication or a placebo and visiting UMass 8 times over a period of 6-7 months. You will be compensated for your time and receive free parking.
You may be eligible if
you are a patient with vitiligo and are:
A male between 18 – 64 years of age
Not currently taking a statin medication for heart disease
If you are interested in participating or would like more detailed information:
Call: (508) 856-2800 or   Email:

[email protected]
---
Major Expansion of Vitiligo Genetics Project
University of Colorado
Health School of Medicine
Update!
International Study to Find Vitiligo Genes
Additional Patient Volunteers Needed
From the USA and Canada
Scientists with the international VitGene Consortium project spanning 18 countries are working to understand the biology of vitiligo so that more effective vitiligo treatments can be designed. Thanks to your involvement, the first phase of this research project has been very successful, discovering many vitiligo genes, resulting in real breakthroughs in our understanding and opening new doors to developing potential new treatments.
We now plan to expand these studies to discover additional vitiligo genes, giving us even more targets for treatment. That means we need to double the number of patients. Our new goal is to enroll 3000 additional Caucasian (white) vitiligo patients over the next two years. Your help is essential.
If you are from the USA or Canada and have not previously taken part, your participation is vitally needed. Please complete the questionnaire below then email directly to Dr. Richard Spritz at the University of Colorado School of Medicine using the email address provided at the end of the questionnaire.
Your personal information, by law,
will be kept private and will not be sold or disclosed.

Join with us to work for a vitiligo-free future!
---
Patients and Controls Invited to
Participate in Online Vitiligo Survey
Sponsored by Nanette B. Silverberg, MD
Departments of Dermatology,
St. Luke's-Roosevelt and Beth Israel Medical Centers, New York, NY
Dr. Silverberg is conducting a survey to review medical, genetic,
    psychological and nutritional factors that may cause or exacerbate vitiligo.
Individuals with vitiligo that have been previously diagnosed
by a physician are welcome to contribute to this survey.
Friends and family without vitiligo are also encouraged to
respond as control subjects. Just answer the questions that
are applicable.
The survey will not include any personal information that may
identify you to the public.
Click Link to Select the Appropriate Survey Below
Participate in this Survey as an Adult with Vitiligo
OR
To Participate in this Survey For Your Child
---
Volunteers Needed for NB-UVB
and Epidermal Grafting Trial
Effect of Narrow-Band UVB on Repigmentation
Following Suction-Blister Epidermal Grafting in Vitiligo

Principle Investigators: Dr. Amit Pandya & Dr. Flora Kim
Location:  University of Texas Southwestern, Dallas, Texas
Study Description: Open to patients with bi-lateral vitiligo.
Patients will be treated with 1 cm suction-blister grafts to affected areas to determine if narrow-band ultraviolet B phototherapy significantly improves pigment spread following the grafting procedure compared to grafting alone. The study may last up to 9 weeks, which includes 8 weeks of NB-UVB administered 3 times a week.  All patients will receive grafting and follow up visits for no charge; however, they (or insurance) will be billed for phototherapy treatments.
Eligibility Criteria: Adult patients over the age of 18, symmetrical bilateral lesions (measuring at least 3x3cm)
Criteria Exclusion:  Pregnancy, breast-feeding an infant, history of skin cancer, history of photosensitive disorder, history of taking photosensitizing medications, history of recent phototherapy or topical therapy within one month prior to enrollment, history of organ transplantation, presence of the Koebner phenomenon
Contact:  If you meet the above criteria and are interested in participating or would like more information, please contact Dr. Flora Kim at [email protected]

Earn funding for VSI 3 Ways when you Shop!
Please keep VSI in mind when you do any of your online shopping
---
AMAZON SHOPPING
Amazon.com has all kinds of items in addition to books. As long as shopping is done through this link, Amazon.com, or from the Amazon box on our Community Home Page, VSI will earn fees, based on a percentage of the sale*. The more items members buy, the higher the percentage! Our Vitiligo Library and Store, containing books, articles and products for those with vitiligo, is also powered by Amazon.
iGIVE SHOPPING
iGive.com is another program with an online shopping mall with over 700 stores where you can shop and earn VSI a percentage. Let friends and family know about iGive so they can support VSI, too. You do have to register for iGive. Once you've registered, you can either shop directly through their "mall" on iGive's website or by downloading their new button, which makes it even easier. iGive also has a search function powered by Yahoo at isearchigive.com (or through the button) that earns VSI a penny per search. The power of numbers makes this also an effective way to support VSI.
GOODSEARCH SHOPPING
GoodSearch and Goodshop are similar to iGive. Goodshop has some different stores (like Target), though, and also offers coupons and often a higher percentage to VSI. Goodsearch also offers a toolbar. Through another affiliate, GoodDining, participating restaurants offer VSI a percentage of your meal purchases. If you provide reviews of the restaurants afterwards, we earn even more!
* Vitiligo Support International Inc., (VSI) is a participant in the Amazon Services LLC Associates Program, an affiliate advertising program designed to provide a means for sites to earn advertising fees by advertising and linking to Amazon.com.
Support Vitiligo Education and Stay Connected!
There is no other source available that offers the comprehensive vitiligo education and patient support that VSI does. We are asked to respond in many ways to those who come to us for guidance, information and support. As we depend on donations from the public to meet these demands, your gift is critically needed.
For an annual donation of $25 or more,
become a Supporting Member
and begin to receive your additional benefits.
Already a Supporting member? An additional donation
is welcome and gratefully appreciated.
Click Below to Make a General Donation with PayPal.

At this time VSI is unable to integrate PayPal with the website Supporting Membership function; however, we can process this manually. If you would like to upgrade to or renew a Supporting Level Membership using PayPal, please contact VSI at [email protected].